As they did in 2020, the selections in our SmallCap Informer stock newsletter exceeded the returns of the S&P SmallCap 600 Index for the year. The S&P SmallCap 600 is our target performance index, as it best represents the returns of small company stocks in the broader market.

For the full year, our SCI stock picks delivered a 34.2% return, compared to 24.7% for the small-cap index, a very fine result. Our newsletter's stocks also outperformed the index in the last three- and five-year periods, as well as for the lifetime of the newsletter since August 2012: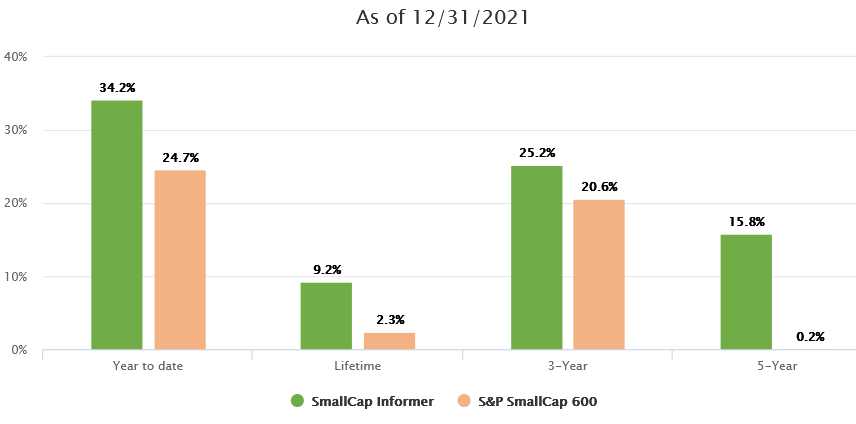 Results include all securities bought, sold, or held in the year, as well as dividends paid. The rates of compound annual return for the SCI picks and the S&P SmallCap 600 Index were calculated using the same cash flows to create an appropriate comparison in each period.

While we are encouraged by our results for the year, our focus remains on the long-term, so we are more gratified that our five-year and lifetime newsletter results remain strong. (Reminder: you can see regularly updated performance figures in the "Track Record" page of SmallCapInformer.com.)
If you are in search of high-quality, top-performing, small-company stocks for your portfolio, subscribe to the SmallCap Informer today.
---
Reprinted from the February 2022 issue of the SmallCap Informer.
Not a subscriber? Subscribe to the SmallCap Informer and get monthly small company stock recommendations and updated buy/sell prices for each of the 48 high-quality small company stocks covered in the newsletter.