SmallCap Informer Subscribers Can View Their Webinar Replay
Posted on Thursday, January 6, 2022
If you missed the live webinar with Doug Gerlach, the replay is now available for viewing on demand.

One of the benefits of subscribing to the SmallCap Informer stock newsletter is access to exclusive subscribers-only events such as our webinars with Editor-in-Chief Doug Gerlach.
In Doug's 2022 Small-Cap Outlook Subscribers' Webinar that was held on January 5, 2022, subscribers learned:
How the SCI picks beat the S&P Small-Cap 600 returns for 2022 (as they did in 2021).
How the SCI picks have outperformed the small-cap index in the last three years, five years, and for the lifetime of the newsletter,.
What's happening in the economy and how it might affect small-cap stock investors in 2022.
Small-cap stock ideas in several key industries and sectors that could deliver results in the year.
The 10 small company stocks that Doug and his team believe are poised for outsized returns in the next twelve months (and beyond).
If you missed the live presentation, you can view the replay at your convenience on the SmallCap Informer website in the Subscribers section (login required).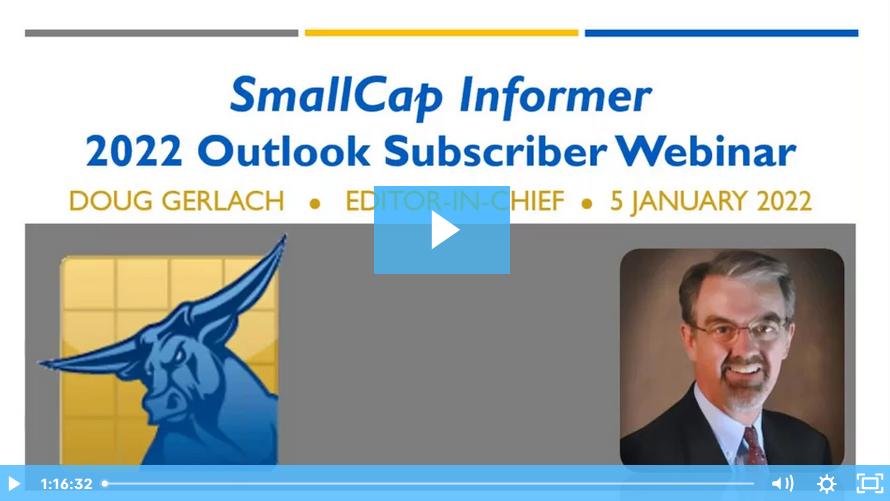 If you're not a subscriber, you can subscribe today and get access to the replay, and also get our exclusive "Top SmallCap Stocks for 2022 Special Report" as a bonus! Use Promo Code TOPPICK22 to subscribe to the SmallCap Informer before it's too late.